Pipe
Polycane furniture is manufactured from an especially formulated pipe made specifically for furniture. It has a P.V.C base with high levels of titanium oxide, UV inhibitors, plasticizers and acrylic impact modifiers. The result is a light, strong pipe with a very high resistance to ultra violet light, giving it excellent durability and weatherability in outdoor conditions.
Fittings
The fittings like the pipe are made specifically for furniture and are manufactured to even higher standards than the pipe.
Tables
Table tops are fibreglass with a closed cell foam backing with Polycane pipe and fittings used in the legs. They are as well designed and as durable as the furniture.
Advantages
Polycane outdoor furniture cannot be beaten for comfort. Clever design and the stretch properties of the fabrics ensures excellent comfort and good looks. It will not rot or dry out and constantly need paint or oil like timber. Aluminium has a tendency to oxidise and steel to rust, heat up or cool down with the weather. Coatings are unsuccessful as once scratched or chipped corrosion gets to work. Polycane furniture is inert and remains within a very limited temperature range, not getting hot or cold as the weather changes. Although light it has a high resistance to wind and looks just as good 5 years down the track as when new.
Experience
Polycane is manufactured in Napier New Zealand where the product is subjected to one of the highest UV conditions in the world. It has been manufactured in New Zealand, Australia and Canada for over 20 years and exported all around the world. Polycane has been widely chosen and recommended by leading resorts and hotels including Quality Inns, Travelodge, Intercontinental, Hyatt and Oriental Mandarin. Countries recently exported to include Australia, USA, Singapore, Bangladesh, Rarotonga and Fiji.
Warranty
Polycane provides a three year warranty that pipe frames, fittings and slings will not rot, rust or corrode and are free from manufacturing defects.
Commercial Quantities
Prices for commercial quantities and export orders quoted on request. Prices for settings quoted on request.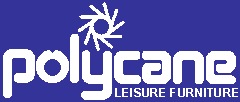 Extra Chairs
RIO coffee chair including cushion
BERMUDA dining chair including cushion
FLORIDA sunchair including cushion
SUNSTACKER CHAIR including cushion
Extra Sunloungers
CHASE Lounger Frame only
Extra Stools
FOLDING STOOL
Stands
TOWEL STAND
PLANT STAND
Extra Slings
FLORIDA BALCONY CHAIR
BERMUDA CHAIR
PARADISE CHAIR
FLORIDA CHAIR
CAVILL CHAIR
CAVILL LOUNGER
UNBRANDED CHAIR
UNBRANDED LOUNGER/RECLINER
Clips $0.40 each
Conservatory Chair
590x620x880mm (Length, Width, Height)
Height To Seat: 420mm